The Twenty-two Footers
The 22-footers began to appear in the 1880's as a smaller version of the 24-footers, but very soon boats were being built specifically to race, and most of the features of the eighteen footers of the early twentieth century developed in 22-footers in the next couple of decades. They took over as the dominant class from the 24-footers in the mid-1890's, largely due to the impetus of Intercolonial racing with Brisbane boats. They faded after the turn of the century and were supplanted as the dominant class by the 18-footers in 1903.
​This list will be continually added to, there were at least 54 twenty-two footers built.

Bulletin 1889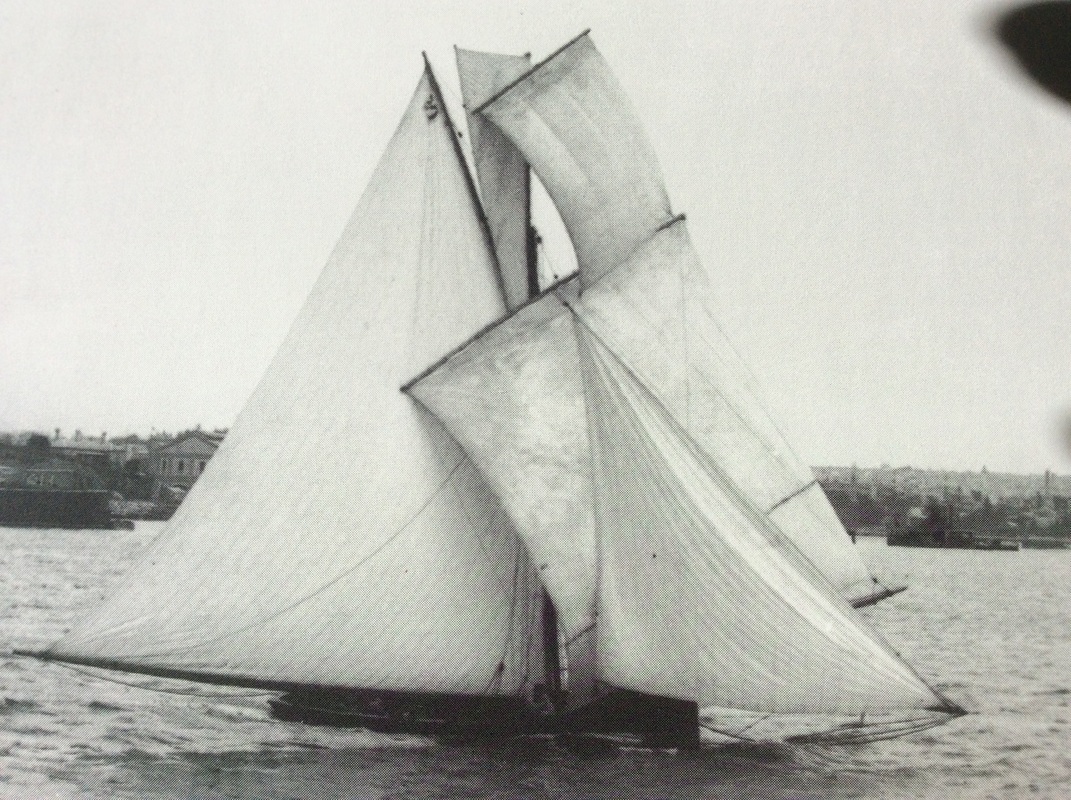 Builder: J.McCleer, Brisbane, but Billy Golding from Sydney claimed to have sold him the moulds.
Known dimensions:Length 22'
Bulletin was the Queensland Champion for most of the 1890's, and won several Intercolonial races, mostly steered by J.H.(Jack) Whereat, who also had a hand in building her.
Note the bonnet, an extension laced to the bottom of the squaresail, and the raffee slung from the peak of the jackyard tops'l.
She was renamed Ruby and was wrecked in a gale near Bowen in Far North Queensland in 1916.
Effie 1896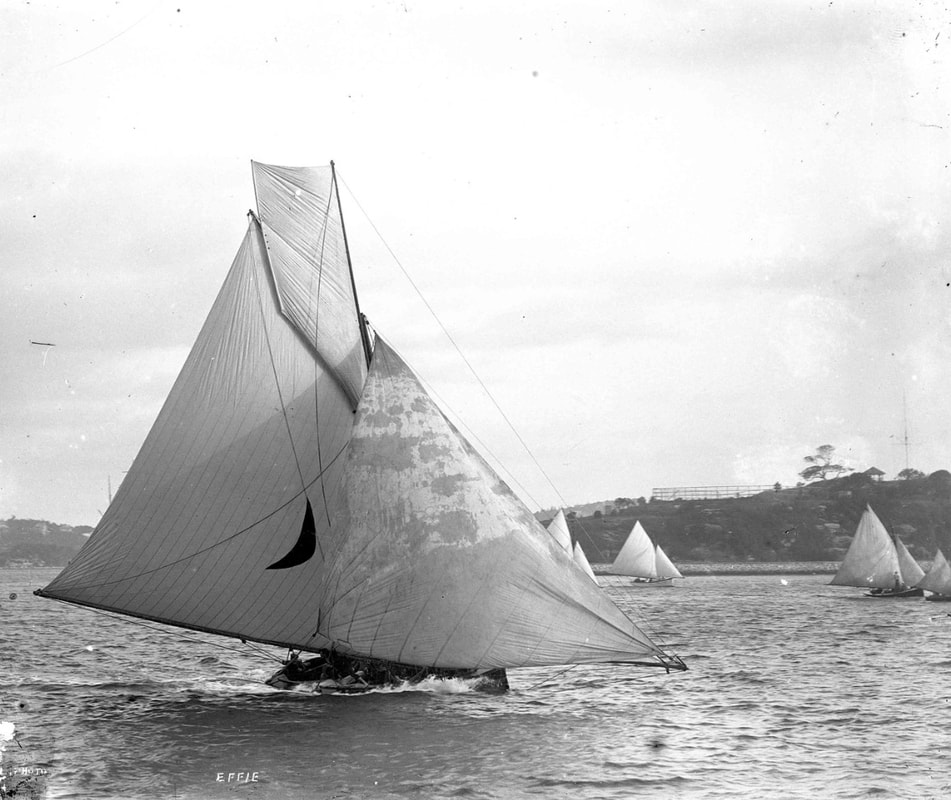 Builder: Joe Donnelly for Mr J.McMurtrie.
Known dimensions: Variously quoted as 9'7" or 9'!0" beam, 2'7 1/4" deep, "immense spring in keel" of 9".
Sail Insignia: Black crescent.
Effie debuted at the Johnstones Bay Sailing Club handicap race on Saturday 5 December 1896, after being launched that morning, and won the race under the owner J. McMurtrie off scratch, using sails from the 24-footer Ida. She won again a fortnight later, and again in her third race on 9 January 1897, and hopes were high for her in the 22-Footers Intercolonial Championship on 23 January in Sydney, but she was unplaced. Dismasted in the Anniversary Day Regatta Intercolonial Challenge race on 25 January, Effie capsized in the next event, the SFS Intercolonial race on Sat 30 January, and was unplaced in the next race a JBSC handicap on 6 Feb. McMurtie coaxed an old professional Nick Johnson out of retirement to steer her on 13 Feb but the jib carried away. Things improved a bit when Effie won off scratch in the last race of the JBSC season on 3 April under Nick Johnson. Both Effie and Golding's Vigilant sailed to Gosford for the Regatta at Easter and were weather-bound there for a week before returning.
In the 1897-98 season McMurtrie started in a few races without success, but Nick Johnson got into third in the JBSC's ocean race on 30 October (the boats raced to a buoy four miles to windward (N.E.) of South Reef). In the 22-Footers Championship race on 28 November Effie under Nick Johnson had a great tussle with Vigilant was but just beaten on the line.
Effie travelled to Brisbane for the 1897-98 Intercolonials and won the Championship race, plus two more races. On returning to Sydney she won the 22-footers race at the Anniversary Day Regatta. In 20 races up to March that season, Effie won 9, was second 5 times, third once and unplaced only 5 times. In the 3 remaining events, she won 2 of her heats. N.Johnson steered on 15 occasions out of the 20. She won another one or two races in late March and early April.
In the 1898-99 season Effie continued her run of victories, other than the first race of the season where she was beaten by Donnelly's new 22-footer for Mr Sam Hordern Plover. Effie again won the Intercolonial Championship in Sydney in January 1899. Effie was reported as being for sale in February 1899. This may have happened as McMurtrie sailed a yacht in the next season (and then died of pneumonia in September 1901). The new owner appears to be a Mr E.E.Sayer.
She was still the dominant boat in the 1899-1900 season. The Queenslanders dropped out of Intercolonial competition, and many of the Sydney 22's stopped racing. There was much talk that the cheaper Rater-type yacht would soon replace the 22's, and several raters did begin to race on the Harbour. A challenge series between Effie and a rater was won 3-nil by Effie, and the crowds on the steamers seemed to want to still support the 22's.
For several more seasons the 22's sailed on with Effie, Plover and Keriki the most regular, but with rarely more than 5 boats in a fleet. Most of their weekly racing was in General Handicaps with the 18-footers which were rising in numbers and popularity with the punters. The owner bought new sails for the 1903-4 season. Various skippers handled the boat during these few seasons. But by 1910 only Keriki and Effie were sailing with the SSC and SFS. After that the trail of Effie runs cold, I am yet to find out what happened to her.
In the opinions of the time she was generally rated as the best 22-footer of all.


Plover 1898
Builder: Joe Donnelly, for Sam Hordern (Anthony Hordern &Sons department stores)
Known dimensions: Length 22', beam 10' across planking, 11' over mouldings, 2'8" deep, tuck 7'10" x 1'10", 9"+ spring in the keel.
Keel Tallowood, timbers Elm, 'turtleback deck'.
Raced with the Johnstone's Bay Sailing Club and Sydney Flying Squadron until the 1901-02 season, last known appearance at Balmain Regatta November 1907. Sam Hordern ordered her from Joe Donnelly in early 1898 after the dismal showing of Bronzewing V​ in January and February, a boat designed by Linton Hope and imported from England.
In 1899 she was fitted with hollow spars and mast by the builder Joe Donnelly, and was possibly the first open boat to carry hollow spars.

Vigilant 1896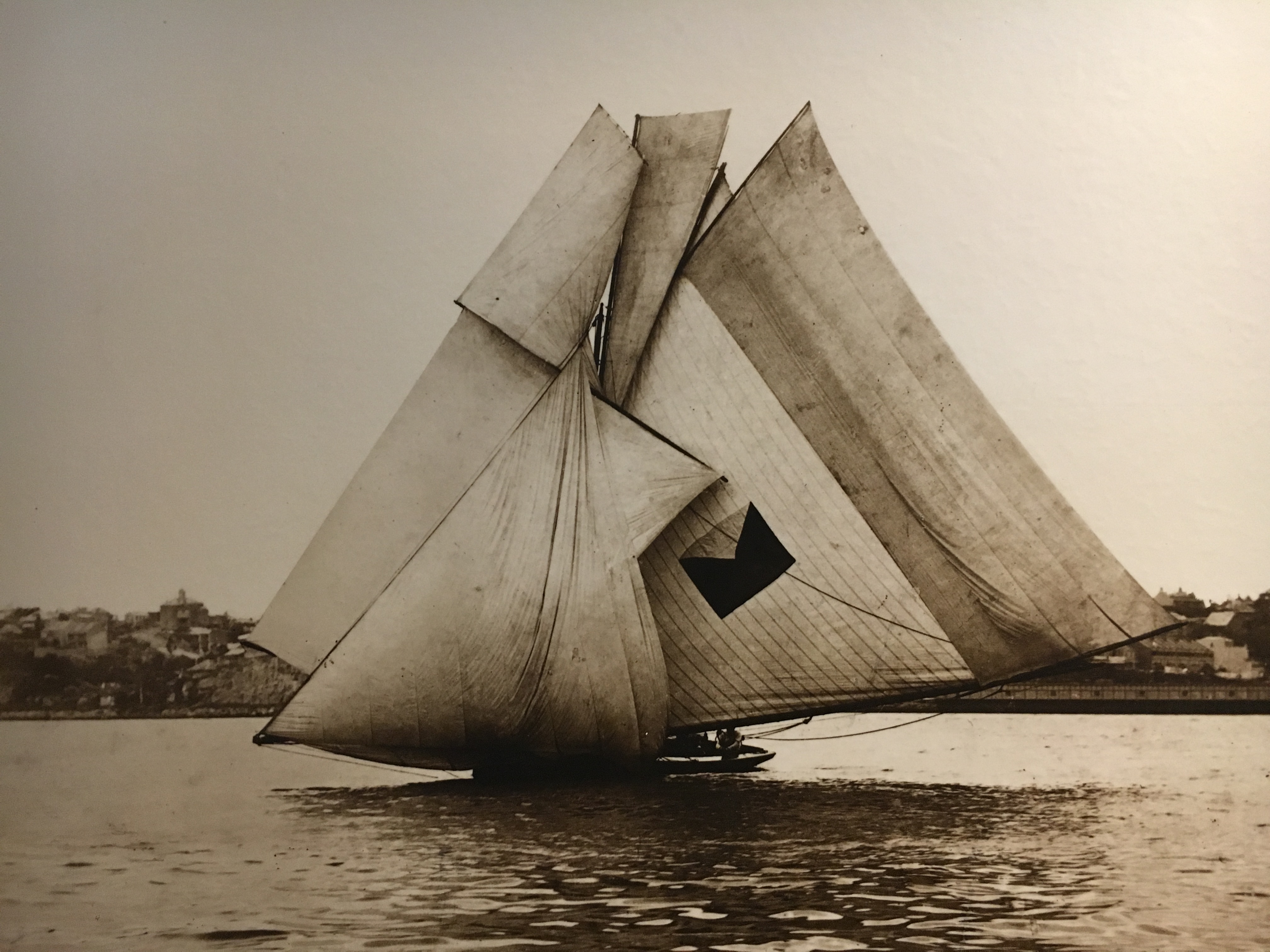 Builder: William Golding for a "syndicate of 20 young fellows". Often steered by Billy Read, including winning the Johnstone's Bay Sailing Club's 22' Championship in 1897.
Known dimensions: 10' beam over planking, 11' over gun'ls, 2'5" deep, 9' beam at mast thwart, 8' at tuck. "Only" 3" spring in keel for'd, 2" aft.
Planking, tuck, deck, thwarts, case Cedar, keel Bluegum, stem Tea-tree, sternpost Colonial Teak, timbers Hickory (Blackwood), moulding and stringers Kauri, knees Tea-tree and Oak. Dingwall sails, main 32' on boom, jib 15' outboard.

Wonga 1896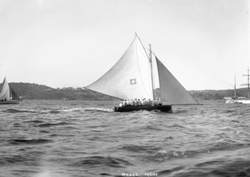 Builder: Edgar Dearing Jnr of Balmain for A.W.Crane.
Known dimensions: Beam 9'1" over planking, 9'10" over mouldings, mast thwart 7'2", tuck 7'wide, depth 2'8". Spotted Gum keel 10" x 2", 5 1/2" spring forward, 4 1/2" aft. Stem and sternpost colonial Teak (Crow's Ash), Cedar planking (all one length), Cedar thwarts and decks. Ash coamings and mouldings, timbers Hickory (Blackwood), runner and shroud plates inside, "practically no deck aft".
Wonga was launched on Saturday 22 August 1896 and had her first race on 26 September, the day this photo (from the Hall Collection, ANMM) was taken, with W.Holmes at the tiller. The owner Mr Crane was still the owner of Guinevere, an earlier 22-footer and it appears that the rig in the photo is that of Guinevere, as a complete new rig with spars by Dearing and sails by Carter was reported as fitted in mid-October. It was not an auspicious start, she broke a shroud and withdrew from the race. Other than a third at the Balmain regatta that year, Wonga was not particularly successful in its early races, in spite of mostly having the legend George Holmes at the tiller. George Ellis took over the tiller early in 1897 and the boat began to do better in races with the Johnstones Bay SC and the SFS. Crane occasionally steered himself, and Jack Smith is also seen. The other new boats built in the same year under the stimulus of Intercolonial competition with Queensland, Vigilant and Effie, and Plover of 1898 were faster. Crane sold Wonga to H.L.Carter in November 1899, and she was re-named Kelpie. Used mostly as a pleasure boat, Kelpie occasionally appeared in 22' Championships just to make up the numbers, but mostly raced in limited sails and crews events. In October 1903 a 22' Wonga was registered with the new Neutral Bay SC by owner P.Roberts and this is probably the same boat, but is rarely mentioned again.