The Twenty-four Footers
The twenty-four footers started to appear in the mid-1870's and were referred to as fishing boats. Some were professional fishing boats but most were 'gentlemen's' fishing boats, pleasure boats used for fishing, cruising and a spot of racing. They were centreboarders, were mostly of batten-seam carvel construction, carried internal ballast and were painted and kept afloat. From 1876 on, new boats began to appear specifically built for racing. They were considered the primary open boat class at the regattas, judging both by contemporary comments and by the amounts of prize money offered. The late 1880's saw an era of the 24's mostly racing in fleets of hired boats with amateur skippers and crews, but more professionalism came in during the early 1890's and the new boats being built were shallower, much beamier and carried much bigger rigs. They began to be displaced by the 22-footers in the mid-1890's.

The list below and the information on each boat will be continually added to.
Adelphi​ 1873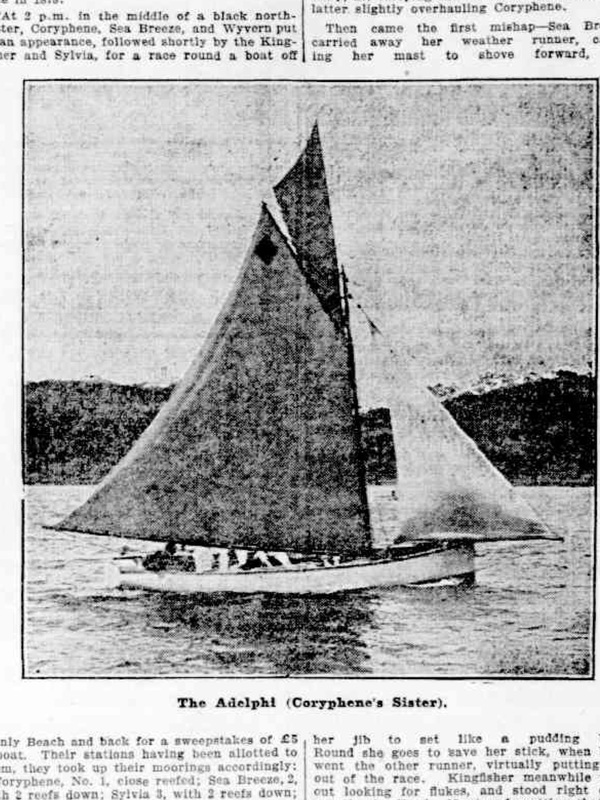 Builder: W.Langford
Known dimensions:Length 24', beam 8'
Sister ship to ​Coryphene, Adelphi was one of the early painted fishing boats that were superceded by the 1880's by new boats specifically built for racing.
Idothea 1888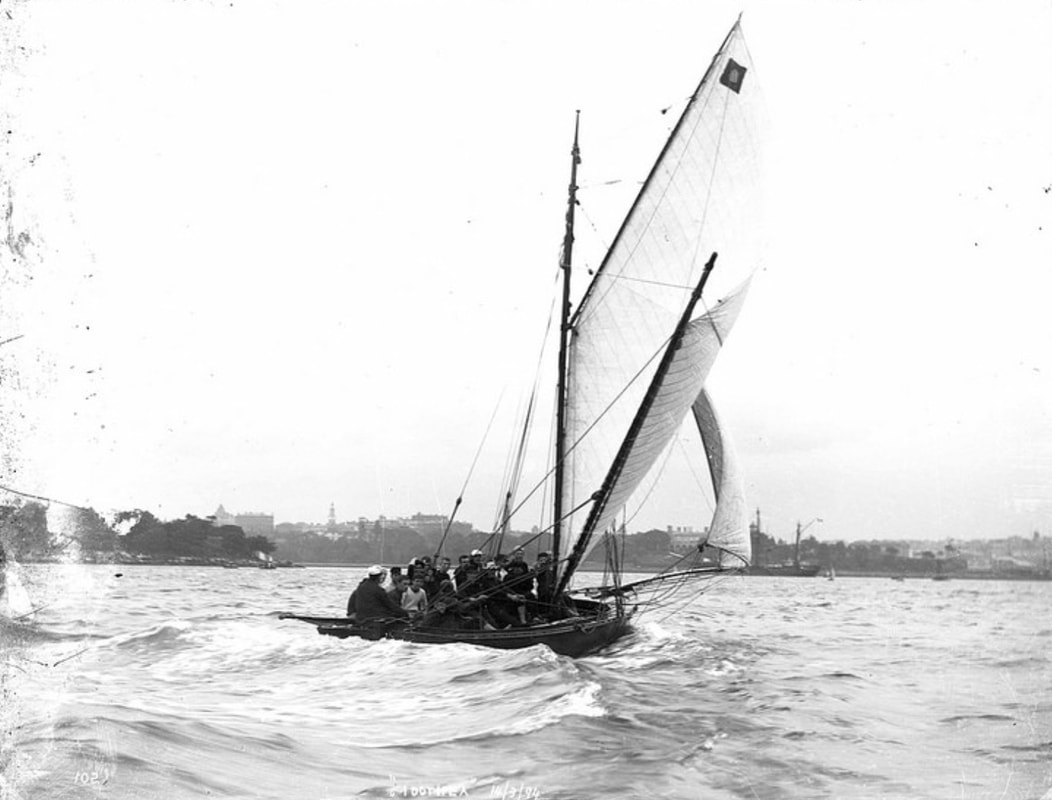 Builder: Bob Stevens, for H.C.Press who ran a boatshed in Woolloomooloo.
Known dimensions: Beam 9'6" or 9'8", tuck 7'10" depth 3'0". Planking 5/8" Cedar. Seats were polished Maple (or Oak) and Blackwood making a grating to allow water through,lockers were panelled with Cedar and Pine, the centreboard box was "tastefully relieved by raised and carved panellings". The deck was polished Rosewood.
Idothea was launched on Sat 6 October 1888 at a time when a large number of mainly 24-ft boats was being built for the hired fleets from boat sheds like that of H.C.Press. A distaste for professionals in some quarters had led to several clubs that only allowed amateurs, including the Port Jackson Sailing Club. The boats in this club were virtually all hired boats. They would be hired for a season or even longer. Idothea was hired for many seasons by the Commodore of the PJSC Mr Notting. She was unplaced in her early races in the Double Bay and Balmain regattas, but began to win Club races and was judged the "crack" of the season. The following season no less than nine new boats were built attempting to beat her. Notting continued to race her until at least the mid-1890's, by which time the East Sydney Amateur Sailing Club was the last one sailing hired boats. She even sailed against the professionals with the Sydney Flying Squadron in 1895. She is reported with the Sydney Amateur Sailing Club in 1897, and with the newish Balmain Amateur Sailing Club in the 1908-09 season and later under T. Tooher. She is last reported in a BASC race in February 1913 under Jack Robinson.
In the PEOPLE section of this website there are two photos, one of Idothea's ​crew from the Balmain season of 1908-09 including a closeup of the massive rudder, and one of the social members of the Balmain Amateur Sailing Club.

Lady Loch 1893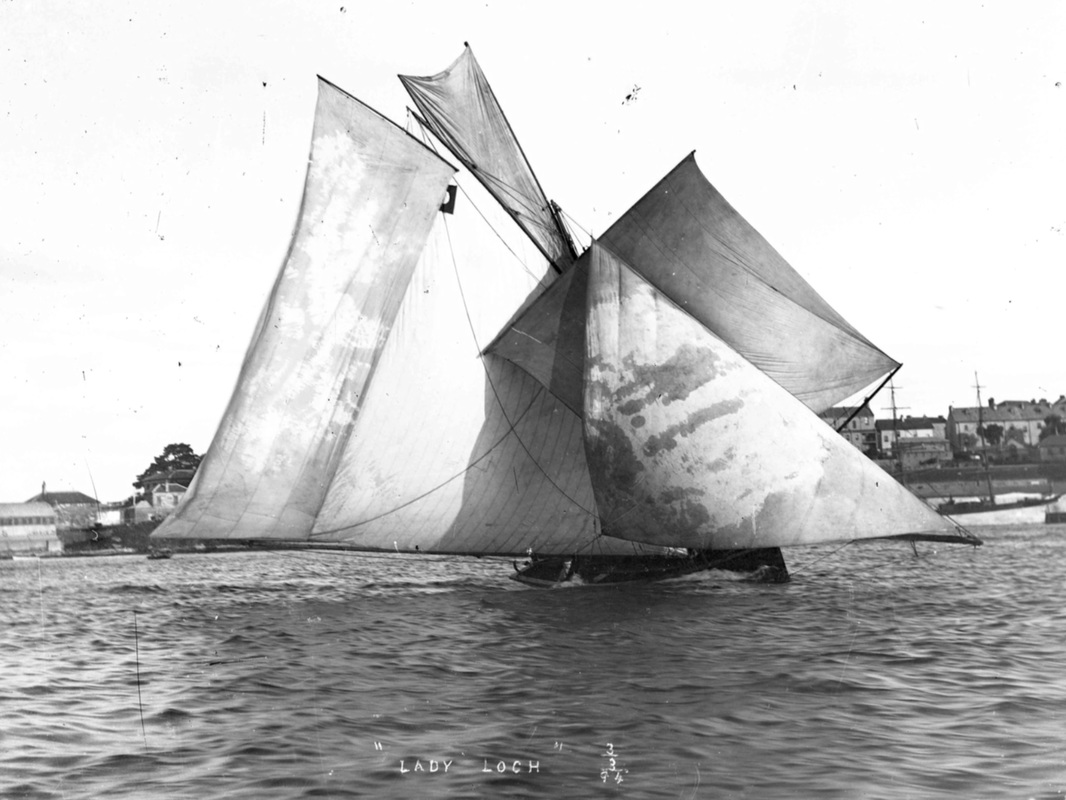 Builder: Reid of Balmain
Known dimensions: Length 24', beam 9'(?)
The commissioning owner Mr Longfield changed his mind and sold the new boat to Mr Langford of the North Shore (probably Harry Langford, a boatbuilder in his own right and son of Thomas and nephew of William Langford, leading boatbuilders of a generation earlier. This is a great Hall photo of Lady Loch in a Johnstone's Bay Sailing Club race in 1894, approaching the finish line with squaresail, balloon jib and ringtail up. I looked up the date of the race, 3 March and unfortunately she was unplaced. One of the last 24's built. She raced with moderate success, most often steered by George Holmes Snr (see entry under PEOPLE), but the 24's days were numbered and in February 1896 she was renamed Mystery, ​but perhaps not sold as a T.Langford appears as skipper later that season, though Holmes still has her for most races. The name is apt because I have not been able to find a reference to her racing after that season.
Lottie 1876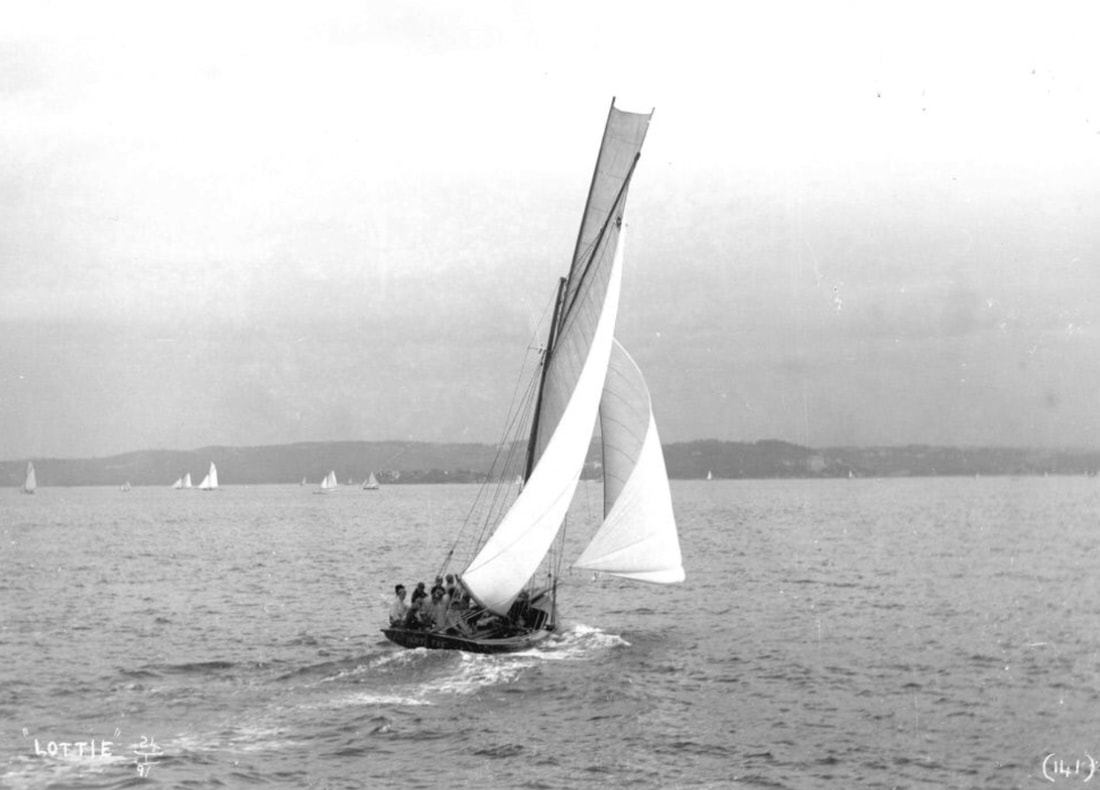 Builder:Joe Donnelly for S.J.Hyam
Known Dimensions: Beam 7'8", tuck 5'4"(considered 'enormous, like all of this builder's models'), depth 3'1" amidships, 4' at heel. Centreboard 7' fore and aft, drop of 3'. The ribs were American Elm. The ballast floor and the sternsheets were teak gratings. The 24's were still carrying ballast in the bottom of the boat at this stage. Her shallow depth and large tuck earned her the nickname 'the flat-iron'.
Sol Hyam was a wealthy patron of sailing and had commissioned several boats from Donnelly before. This was his first foray into the relatively new 24' class and was probably the first of the class designed specifically for racing. She was all varnished, with a gold sheer stripe at a time when most of the other 24' 'fishing boats' were painted. She was launched at the beginning of the 1876-77 season and was immediately successful. Her first race was a re-sail of an abandoned Balmain Regatta race, and with a fleet of 23 "it blew a living gale from the South" and Lottie steered by the legendary George Montgomery won from Young Jim, the only other boat to finish. Sol Hyam sold her after the season and had Donnelly build him another, Carlotta, which was also a champion boat but shared the honours with Lottie. The two boats famously sailed a match race to Broken Bay and back (offshore) in 1878 which Carlotta won. Other new boats were built specifically for racing and most of the older 'fishing boats' stopped racing, but Lottie was still competitive. Lottie kept sailing all through the eighties and early nineties in the 'hired boats' period where professionals were generally excluded (see The Open Boat book), racing with the Port Jackson Sailing Club, the main Amateur club, and its successor the Johnstones Bay Sailing Club in the early 1890's which allowed professionals in and gave a flip to the building of new 24's. She was one of the foundation boats of the Sydney Flying Squadron in 1891.
Lottie continued to race against the newer boats with moderate success, and was still sailing in the last few years of the 19th Century when the 24's were supplanted as the premier class by the 22-footers. She continued to sail as did many of the others in regattas with restricted sails and crews, and with smaller clubs in general handicaps. She was advertised for sale in October 1901 for 25 pounds and continued to sail into the early 20th Century, sailing with the Balmain Amateur Sailing Club in 1907-08 under Jack Allen, but the trail goes cold after that.
Mantura 1889 or 1890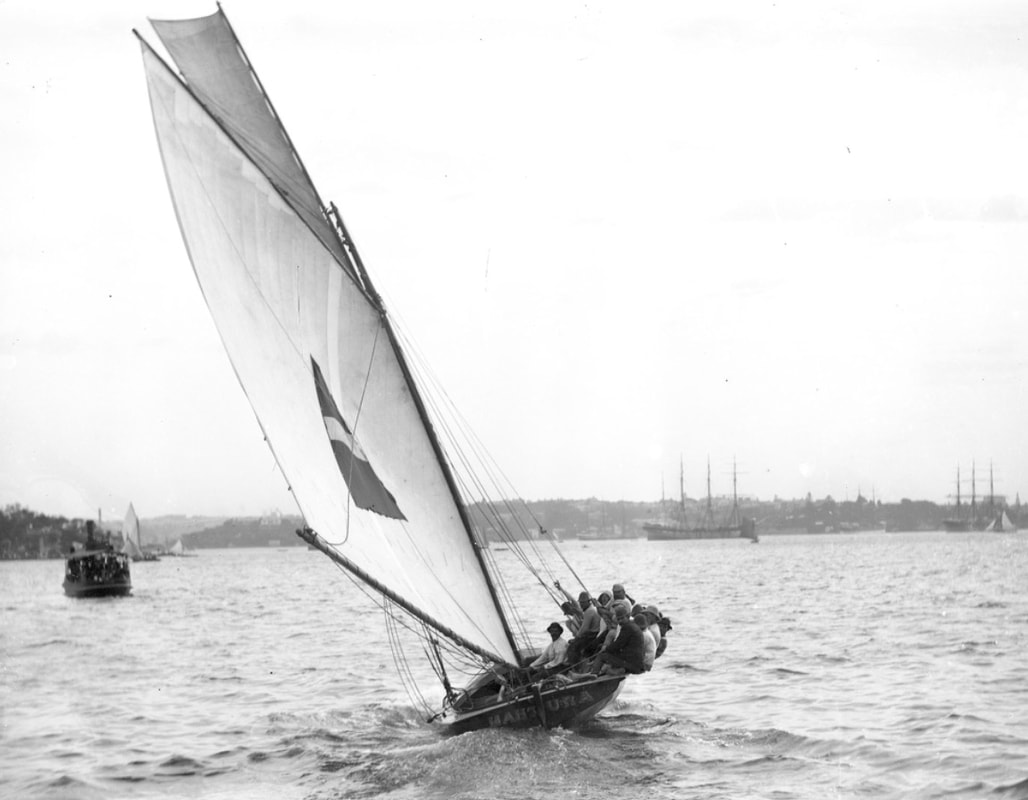 Builder: Hubbard, Glebe
Insignia: Dark-coloured triangle with central horizontal light stripe.
Mantura was built by Hubbard about the same time as another 24-Footer Volunteer, as part of the new wave of beamier, bigger-rigged boats. These new boats regularly carried 20 hands, sometimes up to 25. The first race I can find is a Port Jackson Amateur Sailing Club handicap on Sat 18 October 1890, where she was second to Craigielee off scratch. This established the boat as a usual podium finisher, partly because from at least early 1891 she was mostly steered by Chris Webb. She won several 24-foot Championships but was denied a couple, being dismasted in the JBSC Championship in March 1892 and capsizing in the JBSC Port Jackson Championship in November that year, both under Chris Webb. ​
In April 1893 a visit to race in Hobart was planned but fell through.
What was probably the last 24-Foot Championship was held by the Sydney Flying Squadron in January 1896, Mantura was second under George Holmes Jnr with Chris Webb third in Volunteer, the winner being McMurtie's Ida. These three were the dominant 24-footers in their heyday, the early 1890's. After this many of the 24's continued to race in second-class races, some including Idothea (see above entry) almost up to WWI, but Mantura is hardly mentioned after 1896, and was sold as a pleasure boat to Perth before 1904.

Volunteer 1889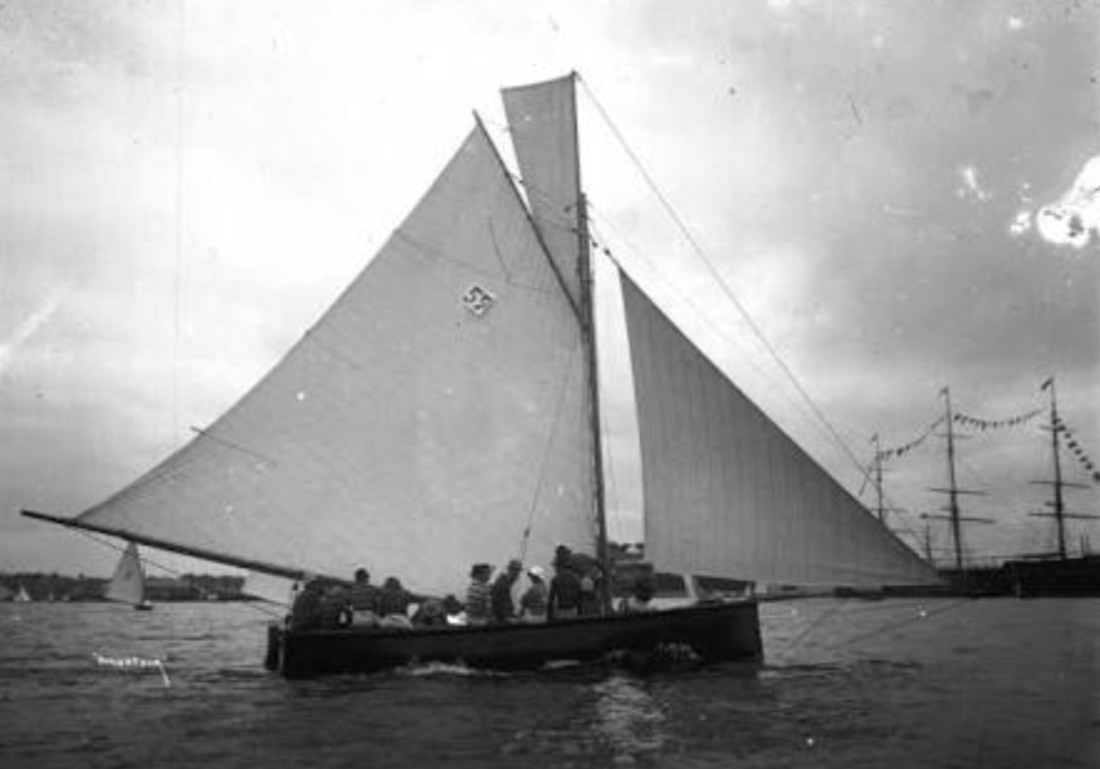 Builder: Hubbard, Glebe.
Volunteer raced with the Johnstones Bay Sailing Club in the early 1990's, and the usual skipper was Jack Robinson, father of Wee Georgie Robinson the builder and skipper of the 18-footer Britannia. In the late 1890's with the decline of the 24's she is seen only in General Handicaps in the main regattas, and is last noticed winning a General Handicap in the Balmain Regatta of 1897, still steered by Jack Robinson. There is another photo of her in the FLEETS section of this website.